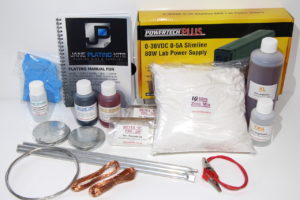 Zinc Kit 10 Ltrs
$363.00 Inc Gst
Description
Complete 10 Litre Zinc Kit which includes all items necessary to successfully conduct your own plating. This kit contains plating chemicals which are mixed with water to create a 10 litre plating bath. It also includes a laboratory type Power Supply. See the full list of Kit contents and Zinc Plating information in the "ELECTROPLATING KITS" category on the home page.
NOTE: Constant movement (not air) inside the plating bath is essential, it enables the chemical to mix and assists with distributing the metal irons around the electroplating bath more efficiently. Jane Kits has a product called an Agitator, which is a small impeller type pump, tested to survive inside the plating chemicals. It is strongly recommended to add an "AGITATOR" to this Kit. They can be found in the "PLATING SUPPLIES" category on our HOME page.
NOTE: The only items you need to supply are a suitable plating container and water to mix your plating chemicals with.
Use only deionised, demineralised, distilled or rain water for mixing with plating chemicals. Do not use tap water!